Though we do not expect an accident, we pray to avoid it. But this bitter truth may come into our life at any time. If you face it anyhow, it will seem like hell has fallen on you. There comes the question of rescue. A lot of companies are operating a business in this regard. Winder Towing is one of them. You may not have heard of this company or just listened to it a little. Don't worry; we are here to cover all about Winder Towing.
The name towing business name Winder Towing comes from Harlon Winder. Family ownership and operation-based off-road recovery business name are Winder Towing. It provides service after an accident or car problems.
In terms of some hill-side accidents, you may fall or get stuck at a high tree branch or a callous place on a hill from where you are almost dying. An off-road recovery service agency can help you the best here. You can get expert assistance from this company in this challenging situation.
We will present the Winder Towing company overview, service areas, nature and cost, towing order process, public opinion, key facts, and big guns from the company.
Winder Towing Inc. Overview
Winder Towing is an aged business owned by a family that gives urgent roadside services and assistance. It is also known for its off-road recovery service. Winder Towing Inc. is the corporate name of this company. The name of the founder of this business is Harlon Winder. The business name "Winder Towing" came from his name.
The company got its foundation in 1981. Since then, it has been serving remarkably for over 40 years.
Service locations of Winder Towing
The Winder Towing authority provides service in Zion National Park, Hurricane Valley, and nearby Southeast surrounding areas. They are now focusing much more on Hurricane Valley areas.
Service Nature
How terrible a situation can be when you are traveling to spend time with family or friends, your car is stuck on a hill track or a lonely road, or you just run out of oil! This problem may come from a technical disturbance or an accident.
Situations like this never come with a precaution. You are in the deepest trouble you have ever faced. Calm down! Just locate yourself where you are and what you need. Tell the towing service provider everything and get rid of this situation.
The towing company, Winder Towing, provides 24/7 services with Ford's flatbed vehicle. It can carry 10000 lbs. weight—other towing equipment from Century brands.
The towing service provider can rescue you from a hilltop, stony road, trough, or elsewhere. They will reach you in the possible shortest time considering the distance.
Winder Towing is one of the top names in towing services. There are a lot of towing service providers, but If you mention the name Winder Towing, it will be enough for you to get an idea of the company.
The company is famous for its trusteeship, work dedication, and many more. To maintain the standard, it employed a bunch of skillful people. The drivers and other crews it provides during recovery are certified, tested, and above all, up to the mark. The company also follows all safety and regulations of the government.
Office Hours
The company operates from Monday to Saturday, 9 AM to 5 PM, and 8 Hours a day. It also offers emergency services.
How to Order Towing Service
Make a phone call to the number +1 (435) 635-2231, then inform your necessity detailing your car brand, model number, present location, and exact time when you must need the assistance. Then mention your additional needs if you have any.
What do you actually need? Wheel-lift cars fit almost all cases. If you need something bigger, you must choose a flatbed car. If your car is more difficult to reach, you need to get a boom or integrated one. The service provider has some special vehicles – four-wheel driven Jeep Cherokee, Snow Cat, four-wheel driven Jeep Corvair, Rock-climber, etc. Another top-level Jeep
XJ is used for towing a heavy car, jeep, or anything else. What you need, indeed they covered all things.
If you are in a situation that needs extra services like winching, cleaning up the road, or anything else, don't forget to inform them during the order.
Your situation is worse, and you are asking for towing service. Then comes the question of how much time the recovery team will need to reach. Within 30 to 60 or more minutes, you will get them counting on your distance. Keep the faith; they are very supportive and cordial.
Service Charges
Towing service from Winder Towing varies based on task type. Light Duty charge starts from $50 + $3/mi, Medium Duty charge begins from $80 +$4/mi, while Heavy Duty charge commences from $150 + $5/mi. A basic one-mile fee is included here.
Additional service charges include Winching Charge, Night Charge, Lockout, Fuel Delivery, Jump Start, and Tire Charge starting from $50/hr.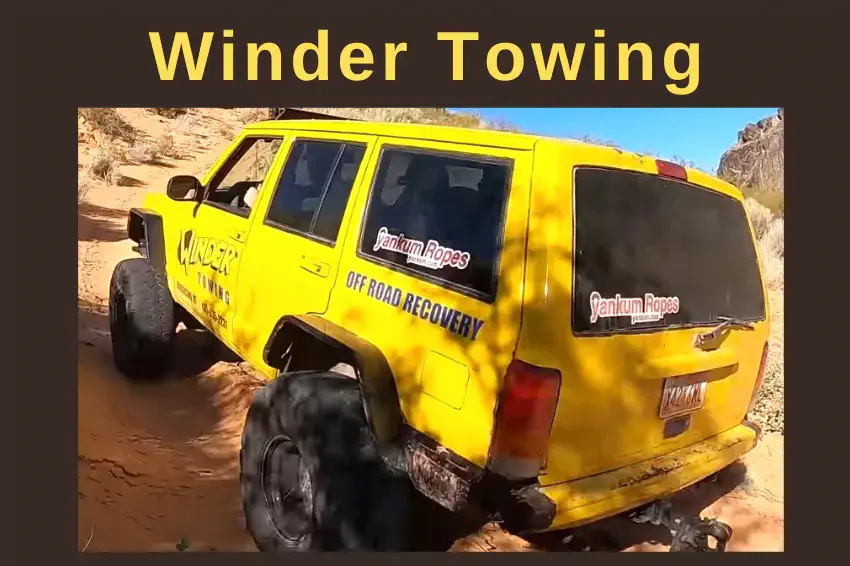 Lizzy from Winder Towing
The use of social media is widespread now. You can get a lot of information about a person, organization, or anything else. Thus people know about Winder Towing, its services, owner, and employees. But this knowledge is limited to a level, actually what they are allowing others to know. Thus, some are curious about Lizzy on Winder Towing because Lizzy is named in the company's video and other details.
Lizzy is a common name in terms of Winder Towing and its service. If you have watched their video on Matt's Off-Road Recovery YouTube channel, you might get a video introduction to her. Now it's time to know something more about her. One of Matt's close friend's daughters is Lizzy. She is very expert in her role.
We have presented a complete article on who is Lizzy from Winder Towing. Have a look at this article to know more.
Ed from Winder Towing
Ed Gergel is well known for his presence in Winder Towing company since it runs various social media activities and video publications. He is an employee of Winder Towing Inc. and Matt's friend. They operate this towing business together. The skills and passion of Ed are his unique identity. He devoted himself to this business at a highly praisable level. Both Ed and Matt have brought their business to this stage.
We covered Ed in detail in another article naming who is Ed from Winder Towing. Visit this to get more information about Ed.
Matt's Off-Road Recovery YouTube channel
Matt, the owner of the Winder Towing, has set up a YouTube channel called Matt's Off Road Recovery. Here Matt covers towing videos. This is a great way to reach the public.
There he shares all about his towing service, employees, and events. Viewers can get the best experience of towing videos from this channel. If you are a fan of Matt's Off-Road Recovery or towing services, this will be the best option to enjoy!
What People Say About Winder Towing
Those who got service from Winder Towing are pleased. It's an emergency time when one needs towing service and a question of life. So, what the people need in this situation, the towing company is providing service appropriately.
Nowadays, there are some more ways to measure public opinion. Google Maps have options for the public to rate a company. There we found it has got 4.9 stars. A social media profile page is another way to know people's opinions on an authority. It also proves the excellent service of Winder Towing with five stars rating.
We also examined some forums for getting a public opinion. There we got all about all positive sides.
Frequently Asked Question (FAQs)
In the below section, we have taken some common questions people often ask about Winder Towing.
Who owns Winder Towing in Hurricane Utah?
Matt Matzel own Winder Towing Inc. He is all in all in this business.
How old is Matt from Winder towing?
By Getting an introduction from the towing videos, some may be curious – what is Matt's age? Matt, the owner of Winder Towing, is 45 years old.
How is Winder Towing Inc rated?
Winder Towing Inc. is rated with five stars on its Facebook page and 4.9 stars on Google Maps.
Is Ed related to Matt on Matt's Off-Road Recovery?
Ed is an employee of Winder Towing Inc. In Matt's video, he plays a minor role sometimes.
Conclusion
Though it's unexpected for everyone to meet an off-road situation, a towing service can be an essential emergency in your life. Thus comes the name Winder Towing. Yes, many people have got satisfactory service from the towing company. So, why not you?
Before getting assistance from Winder Towing Company, tell your need clearly for rescuing in detail and extra service. Describe the location where you are stuck, then say the time within which you want them to reach there.
Visit thekeyfact.com for more interesting facts.