Even though people use Cafe Appliances, they don't know who makes Cafe Appliances. And this is why they are getting the most unwanted replica products at such a high rate.
The appliances from the Cafe series are manufactured by GEA (General Electric Appliances). GEA is owned by a Chinese company named Haier. But the manufacturing process is done in the USA. The production site is located in Kentucky and Lafayette.
The products making their way to Canada are also exported from the USA. The "Made in USA" tag is encrypted in the Cafe product's body.
Cafe Appliances were introduced as a gourmet product line by GEA. They used cutting-edge technology to produce this line of electric and countertop appliances.
About General Electric Appliances
GE Appliances started its journey in 1907. They have been a well-known brand in the USA since they began to. They have been appreciated for their quality and durable products.
In the course of its history, the ownership of the company has changed several times. Now it is owned by Haier. Haier bought the company but did not shift the manufacturing plants. GEA is still a USA-based product.
As an extension of business, GEA introduced Cafe Appliances in 2018. And in 2020, they launched the product line in Canada.
Manufacturer Of Cafe Appliances
Before you know about  Cafe appliances, you must know who manufactures them. 
The Cafe appliance brand is owned by GE Appliances (General Electric Appliances). In 2018 Cafe appliances were introduced. The products under Cafe appliances were launched as luxury brands. But they preserve the same quality assurance as GE Appliances.
Under the name "Cafe Appliances," GE Appliances has launched several models of refrigerator, freezer, oven, dishwasher, and countertop products. All these products are made to influence both home kitchens and commercial kitchens.
GE launched the Cafe lineup to introduce their new technology and make gourmet products. These appliances have attracted customers in a short time. The reason is the brand value of GE appliances.
Where Are Cafe Appliances Made?
GE Appliances is the manufacturer of Cafe appliances. GEA is a Haier company owned by China. But the manufacturing site is not situated in China. The whole production base is located in the USA. It is also the sole distributor of the product.
There are two manufacturing plants in Kentucky, and one is in Lafayette, Georgia. The entire production process of Cafe Appliance is based on these two sites.
In all products of Cafe Appliance, it is encrypted that they are "Made In USA". If your appliances say otherwise, then the product is a replica.
In 2020, Cafe Appliances were introduced in the market of Canada. But there is no production site in Canada yet. They are produced in the USA and then distributed worldwide.
For getting the product in your area, GEA has its distributor. You can easily buy from there and place online orders from authorized sellers.
See More: Who Makes Summit Appliances
Why Use Cafe Appliances?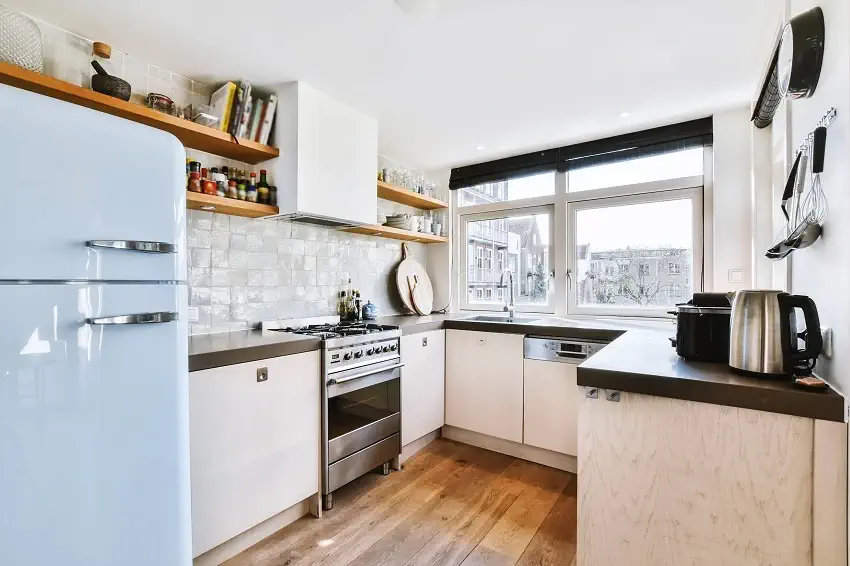 There are several reasons why someone interested in cooking can feel attracted to Cafe Appliances. Here are some reasons that make the product worth the money.
Customizable
Cafe Appliances allows you to customize the design and color of the product. That makes it convenient to fit into your modern home or commercial kitchen. You don't have to worry about disrupting the theme of your kitchen.
Looks
The products of the Cafe Appliances line come in matte shades and colors. They give a modern vibe and aesthetic look. It gets easier to match these products with your modern counters. Especially if you have an online presence, they work as a part of the decoration.
Variety Of Products
Under the line of Cafe Appliances, you can get a lot of products from commercial-style ovens to a toaster, cooktops, and many more. And all of these products are high in quality. Using them properly ensures durability.
Frequently Asked Questions (FAQs)
Are Café appliances better than the GE Profile series?
There are two fundamental elements of ovens of the Cafe series. They are custom handles and unique tones. On the other hand, the ovens of the Profile series can be differentiated from the others considering their creative side.

Thus the Profile series should not be compared to the Cafe regarding the design side. Instead, it has a better grasp on the cooking side.
What is the difference between GE Profile and Café?
The main difference between GE Profile and Café Appliances is in their design, finishing, and looks.

Whereas the Profile line has a sleeker and moderate look, the Café has a more basic design for its product. They try to keep the restaurant vibe while designing. This makes it more convenient for cafe use.
Does GE still make Café Series?
You will be happy to know that the GE Cafe Series of appliances, along with the restaurant-inspired appearance and features for people who love to cook and entertain, has been launched in the market.

With these appliances, dinners can be made into show-stoppers meals with the help of GE Cafe's most exceptional cooking innovation. This oven is specially designed to make commercial cooking easier and accessible in the home kitchen.
Are LG and GE the same company?
The cooling technology that GE Appliances use was invented by LG. LG holds the patent right on that technology.

There is an agreement between the two companies. LG is permitting its patented right for Refrigerator Door-ice making technology to be used by GE Appliances. GE has a contract with LG, which includes a payment transaction.
See More: Who Makes Kenmore Appliances
Final Words
When GEA launched Cafe Appliances in 2018, they made sure to introduce the latest technology in them. They decided to manufacture in the USA as it was the highest consumer of GEA products. And it is also easy to export the products in Canada from the USA. So now you know who makes Cafe Appliances.
Cafe Appliances are not different from other GEA products in terms of technology and quality. You can undoubtedly claim that Cafe Appliances has topped the other products of the GEA line in quality and convenience!