Hotpoint Appliances has many shareholders, like Whirlpool, General Electronics, Indesit, Haier, etc. That's why people often get confused about who makes Hotpoint Appliances.
Over the years, Hotpoint Appliances has dominated the market as an international brand. But even today, its manufacturing process is conducted under General Electronics at different sites.
The main production sites for Hotpoint Appliances are located in the United Kingdom, Poland, Italy, and the USA. The UK has about three production sites of Hotpoint Appliances. But the products are only distributed from Kentucky and North Wales.
Hotpoint Appliances started its journey from the USA and has spread all over the globe. The UK population is the highest consumer of the brand. Their appliances are sold under the brand names Whirlpool, Haier, etc.
History Of Hotpoint Appliances
The story of Hotpoint Appliances begins in 1903. A meter reader and superintendent of an electric power company in California, Earl Richardson, developed a convenient version of a cumbersome electric iron.
The invention of Richardson is known as Hotpoint, as it has a pointy iron that helps to get rid of wrinkles around the buttonholes and ruffles.
At a similar time, George A. Hughes, a former journalist, experimented with cooking methods using electricity. He was trying to revolutionize how electric machinery can be used in cooking, making it more convenient and cheaper.
These two brilliant minds got together by merging their companies in 1918. They made a deal with the General Electric company and created a new brand called Hotpoint.
Today, Hotpoint is a brand of appliances that creates electronic products that are convenient to use, making your lifestyle easier.
Launch Events Of Revolutionary Hotpoint Products
Over the years, Hotpoint has introduced different products that changed today's way of life. Look at those revolutionary products and the year of their launch.
1924: First fully enameled electric kettle.
1950: Moisture-less electric cloth dryer.
1953: Refrigerator on wheels for convenient cleaning.
1961: Introduction of 90 days replacement guarantee for unsatisfactory service.
1965: First lower speed and sensitive cleaning machine for delicate clothing.
Till today, with convenient services, Hotpoint is a well-known name in households.
Manufacturing Zones Of Hotpoint Appliances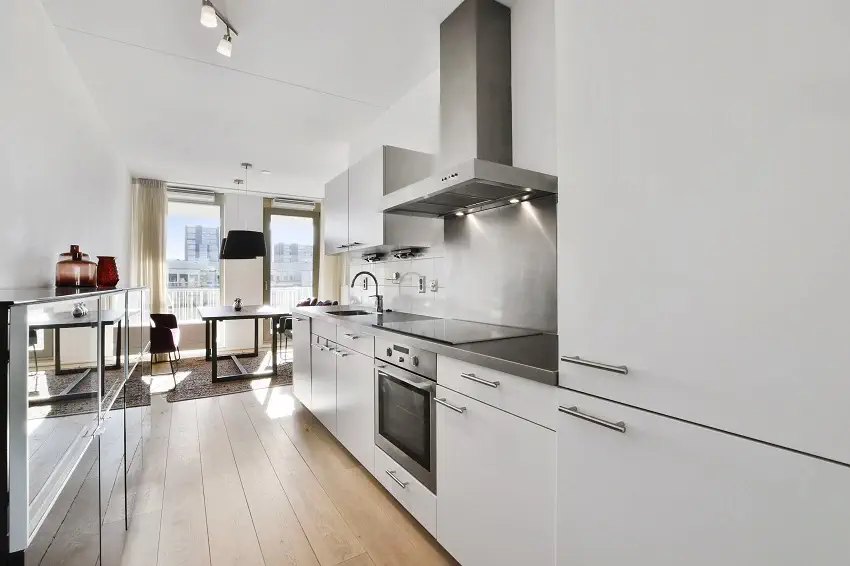 The manufacturing process of Hotpoint Appliances happens in different places of the world. Even though the product started as an American output, it has now spread all over the globe, especially in the European market.
Here's a brief rundown of the manufacturing plants of Hotpoint Appliances:
United Kingdom
The United Kingdom produces the Trumbull dryer for Hotpoint appliances based in Yate.
The washing machines used to be produced at Llandudno Junction, North Wales, United Kingdom. But now the plant has been shifted to Senedd, North Wales, UK.
Here, the company makes about 800,000 washing machines per year!
Poland And Italy
Poland and Italy are also manufacturers of refrigerators for Hotpoint Appliances, even though they are distributed from Raunds, UK.
United States
GE Consumer & Industrial is responsible for manufacturing Hotpoint products in the USA. The production site of Hotpoint Appliances is located in Louisville, Kentucky. This is fully managed and supervised under GE.
See More: Who Makes Kenmore Appliances
Why Choose Hotpoint Appliances?
Hotpoint Appliances has established a sturdy market share over the globe for several reasons. Some of these are discussed here.
Budget-Friendliness
Every middle-income family wants to have all the modern benefits from its home appliances. To fulfill their want, Hotpoint Appliances have brought their products at a very reasonable price.
Over time, they developed their quality but tried to keep the price within budget. Their home appliances start at $500 and go up from there.
Features
The features of Hotpoint Appliances are more than convenient. Therefore, anyone who is not familiar with technology can also use the products of Hotpoint Appliances.
Along with its user-friendly features, the appliances will give the best performance that you can get from any other brand.
Warranty
Along with a 12-month sure warranty, the company also offers ten years of an extended warranty if the product is registered on the website. Under these warranty periods, the original parts will be replaced by the engineers of Hotpoint.
Frequently Asked Question
Who owns Hotpoint now?
Hotpoint is a prominent British-American brand of domestic electronic appliances. The brand's partnership is led by the American organization Whirlpool, but it has significant privileges in Europe.

On the other hand, the Chinese company Haier is also part of the deal, which has access to the brand's American market through its partnership with GE Appliances in 2016.
How long is a Hotpoint guarantee?
The large Hotpoint Appliances have coverage for an entire year. If you claim a valid warranty, they are replaced or serviced using the original parts by the company's technicians.

For more benefits, register your large appliance from the website or helpline, and the company will accommodate you with free parts for the initial ten years. Additionally, they will be fitted by exceptionally qualified engineers.

Call 0800 013 0171 to register your appliance today!
How do I claim my Hotpoint warranty?
The whole process of claiming a Hotpoint warranty is quite simple. All you need to do is tell the company the warranty status. Then select when it's convenient for you. They will then assign a specialist Hotpoint engineer to come to your home and fix your appliance.

For this, go to the website and choose the preferred repairing options. Then select a repairing date that is convenient for you. After that, place a repair request. This way, you can claim the warranty.
Final Words
When we talk about who brought enameled electric kettle, moistureless dryer, or moving fridge, the name that comes to mind is Hotpoint Appliances. They have revolutionized the electronic appliances industry in many ways over the years.
As other companies were included with Hotpoint Appliances, people now don't know who makes Hotpoint Appliances. It is manufactured under General Electronic company. Even though they have collaborated with many other brands, the manufacturing process is monitored from the USA.
The company has several production sites in the United Kingdom. It imports some of its parts from China and assembles them in Italy and Poland. Therefore, it is safe to say that Hotpoint Appliances are manufactured all over the globe.