It is not easy to get noticed in the motocross community. While reading about crazy riders, I came across Ronnie Mac. Ronnie Mac, a man that just came out of nowhere. He is not a pro but has the popularity of one. And he does not even reveal his face or name.
Who is Ronnie Mac?
Ronnie Mac is not a real person, but instead, a hidden character or lifestyle who loves riding dirt bikes. No one knows the real person behind the name Ronnie Mac. But, when he speaks, he sounds exactly like Jimmy Albertson.
There have been several theories over the years on who is Ronnie Mac. Some believe that at first, there was a group of people taking turns on being Ronnie Mac.
Trey Canard, Jimmy Albertson, Brett Cue, and many other riders have been rumored to be Ronnie Mac. Then fans came up with all kinds of explanations.
The man himself has never confirmed it, but Jimmy Albertson is said to be the one who is Ronnie Mac. This is what most fans believe now. It is also said that Jimmy's brother and mechanic, Greg Albertson is also sometimes Ronnie.
A few months ago they wrote a blog about Ronnie Mac and they said it's more of a lifestyle. anyone could be Ronnie Mac in their own life.
Who is Uncle Ronnie
Ronnie Mac, or "Uncle Ronnie" as he is called by the kids. Uncle Ronnie is always quick with a smile and a wave, and he knows all of the kids by name.
The kids all love Uncle Ronnie, and they know that they can always count on him to be there for them. He's a true friend to all of the kids around. Though the kids don't even know the real Ronnie Mac.
On the ground, we often see Ronnie Mac as Uncle Ron talking and joking with the children.
Is Ronnie Mac a Pro Rider?
Ronnie Mac is not a professional motocross rider. He is, however, popular for his social appearance. Ronnie Mac first came to prominence in the motocross world when he began appearing in YouTube videos and other social media outlets. His outgoing personality and willingness to participate in stunts endeared him to many motocross fans.
Ronnie Mac has never competed in a professional motocross race, but that hasn't stopped him from becoming one of the most popular figures in the sport. Thanks to his social media presence, Ronnie Mac has amassed a large following of fans who enjoy watching him ride and participating in his antics.
Where is Ronnie Mac from?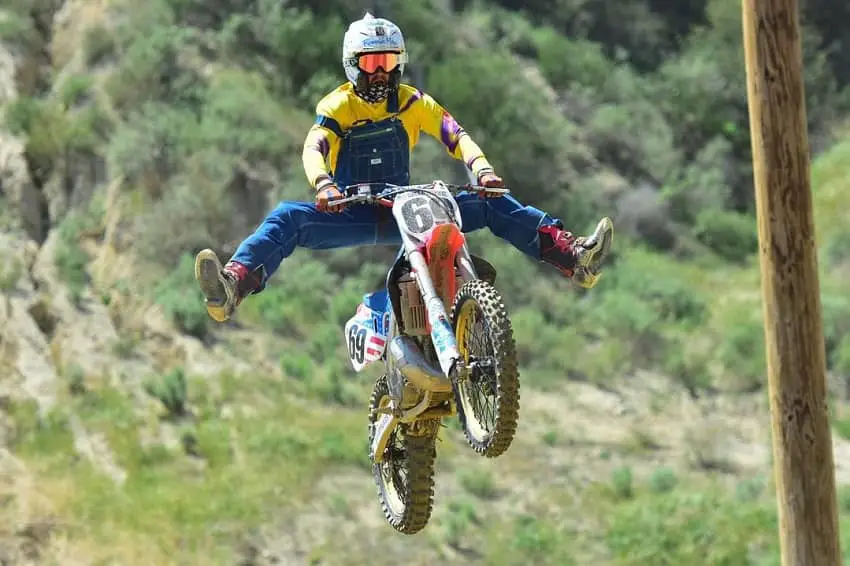 Ronnie has said his hometown is located in Shawnee, Oklahoma, and Jimmy's hometown is in San Diego, California, and his current home is in Bend, Oregon. Jimmy is 33 years old, weighs 158lbs, and runs his Motocross program now. But, as Ronnie Mac, Jimmy has revealed no personal information.
More About Him
Going by the nickname; Uncle Ronnie, he rides a 1998 Honda CR250 dirt bike. It is called "the screaming eagle". And he also has the number #69, which is not AMA-approved.  He likes to call himself a professional Motocross rider too. Even though he doesn't have any MX wins anywhere. He is best known for his goon riding and long jumps.
Strong Personality
He has a dangerous and experimental style of riding. This is what most made him popular, another reason being his personality.
Aside from being a badass rider and having a masked persona, he is also funny. Though a warning: He is not family-friendly. His vulgar and, most times, se*ual sense of humor is perhaps what makes him stand out more than other riders.
Relationships
There has been no mention of relationships for Ronnie and is often described as a man that likes booze and chicks.
But Jimmy Albertson settled for a while with Georgia Lyndsay, a former MX commentator. They both used to be quite a power couple in the Motocross community. But unfortunately, they broke up after being together for years.
Social Profile
Ronnie currently has 948k followers on his Instagram account and 359k+ subscribers on his YouTube channel. He mostly posts satirical content about his bike. He also has a website where he sells his merchandise. Ronnie uses a Twitter account (32K Followers) but he is barely active there. However, He is pretty active on Facebook (398k followers).
On the other hand, Jimmy has only 121k+ followers on his Instagram account @jimmyalbertson. He is not as active on social media as Ronnie Mac.
Frequently asked questions
Who is Jimmy Albertson?
Jimmy Albertson is a professional Motocross rider. He went pro in 2006. But had to take a break after getting a serious injury in 2017 and, he has not returned to professional racing since. He has a Motocross program and team too. He is also popularly believed to be Ronnie Mac.
What is Ronnie Mac's real name?
It is a fake character. He has never revealed his real name. But fans believe that Ronnie Mac is Jimmy Albertson.
Is Jimmy Albertson married?
Jimmy Albertson was married to Georgia Lyndsay. But they are now divorced.
How did Ronnie start his journey?
He became famous after posting a YouTube video of him riding his bike in November 2008. That video went viral at the time. And he became known for his funny antics and obscene personality.
What is Ronnie Mac's dirt bike?
1998 Honda CR250