In case you are using Ryobi tools or planning to buy one then do you wonder about the tools, like where they came from? Who makes Ryobi tools? Indeed, many of us are interested in knowing the expert hands behind the tools we use every day.
In the case of Ryobi, A Hong Kong-based company named "Techtronic Industries (TTI)" Owns Ryobi Tools.
But there are stories behind the popularity.
Why are Ryobi tools so popular? Well. You can get any hand, power, or auto mechanic tools from Ryobi. The manufacturer offers these tools at an affordable price yet without compromising reliability. Additionally, you can pick a wide range of products from their collections.
I know you are looking for information about the maker or Ryobi tools. So, I won't delay answering the queries about the manufacturer in this post.
Who Makes Ryobi Tools?
Ryobi Limited or Ryobi is sole of Japanese origin. It has passed lots of years with incredible success in the industry. You should know its history to understand how it appears now in the market.
Ryobi started its journey in 1943 as a die-cast product seller. Since then, it has created numerous types of tools and equipment.
Mostly, this company is famous for its vast production line covering printing gears, automobiles and electronics components, telecommunication gears, and power tools.
So, all the Ryobi tools we use come from this brand.
Starting with die-cast products, Ryobi kept concentrating on making offset printing presses. So, they started producing them in 1961 though people began learning about this company in 1968.
The current name of the company was changed in 1973. Presently, the company owns around 12 different manufacturing facilities in six countries.
The company started producing necessary products in Shelbyville, Indiana, in 1985. In fact, it is the only location for Ryobi in the United States. Interestingly, they had an official partnership with Hertha Berlin (a German football team) in 2014.
A Hong Kong-based Techtronic Industries (TTI) has a partnership with Ryobi Power Tools and Ryobi Power Equipment following the Ryobi Limited license. TTI also owns several famous tools companies or brands like Milwaukee. AEG, Homelite, Dirt Devil, and others.
Basic Info about Ryobi Tools
| | |
| --- | --- |
| What Company Owns Ryobi | Techtronic Industries (TTi) |
| Launched | 1943 |
| Corporate Headquarters | Shelbyville, Indiana |
| Where Are Ryobi Tools Made | Mainly in China and others in the US |
| Website | https://www.ryobitools.com/ |
Where Are Ryobi Tools Made?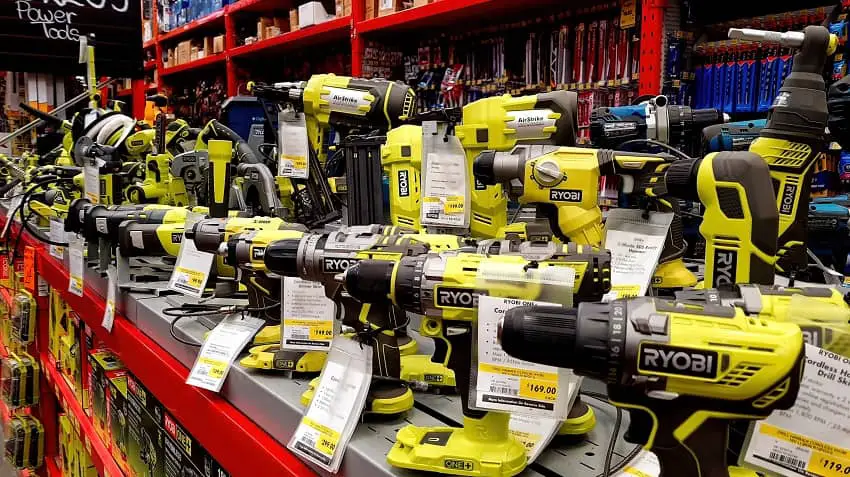 Since the company has built a partnership with TTI, they make most of their products in China. They spend less money as manufacturing cost is comparatively lower in that country. Hence, they make only related accessories for the power tools in the US and the rest of the plants.
It's evident that earlier in the 80s and 90s, this brand used to produce its products in the United States. But right now, you should know that you get Chinese assembled tools.
Is Ryobi a good brand of tools? And Is it Reliable?
Undoubtedly, Ryobi is one of the best brands for tools and accessories. I have done many reviews about different brands. But Ryobi appears most preferable for its decently priced power tools.
All the tools available at Ryobi are very much practical. You can use them for years without seeing any notable change in performance. Also, many regular consumers, DIYers, and hobbyists rely on the Ryobi tools.
They are reliable for several reasons like you have a massive category to choose the most suitable one. Once you pick your product, you can get tools working for 5+ years. That's why many plumbers and contractors recommend this brand. You may also have Ryobi tools at home.
Drawbacks of Ryobi Brand
Some Ryobi products may offer deemed performance over time. Usually, it happens due to improper maintenance. For example, vacuum cleaners may get clogged if you don't maintain them well. Some users have criticized the batteries. They found batteries to die fast compared to other brands.
How is Ryobi Brand Compared to DeWalt
You should know that Ryobi and DeWalt are both popular and independent brands. TTI has a partnership with Ryobi. Alternatively, DeWalt is a subsidiary of Stanley Black and Decker, an American giant in the industrial sector.
DeWalt offers more satisfying warranties than Ryobi, yet sometimes it can be similar. Again, they produce more versatile products like work gear, clothing, and hand tools. But Ryobi is better at creating high-quality power tools like drills, saws, sanders, blowers, etc.
In some cases, both brands are equally good. For example, battery-powered tools offer almost the same battery performance and voltage.
Would I Buy Ryobi Brand Tools?
Of course, you should buy Ryobi tools. They have been serving the market for many years. Still, the consumers are happy with their product and customer service. You can save huge money buying their products. Also, the after-sale services will help you in every situation.
From indoor to outdoor, the power tools from Ryobi appear excellent. They can make your tasks easier like sanding, cutting, cleaning, etc. Also, the fuel consumptions of Ryobi engines are relatively lesser than its counterparts. I suggest you check out their tools.
People Also Ask
Why are Ryobi tools so cheap?
The manufacturing cost in China is the main reason to get the Ryobi tools at affordable prices.
Who makes Ryobi cordless tools?
Ryobi Tools, a partner of Techtronic Industries, makes the cordless tools of Ryobi.
Are Milwaukee and Ryobi the same?
Both are independent brands, but they are Techtronic Industries Limited (TTI) products.
Does Ryobi own DeWALT?
No, they are independent, and products of two different parent companies; Ryobi belongs to TTI, and DeWalt belongs to Stanley Black and Decker.
Is Ryobi made in China?
Most Ryobi power tools are made in China for low-manufacturing costs, and relevant accessories are made in the US and other plants.
Final Words
You were finding the answer to who makes Ryobi Tools, right? Indeed, this manufacturer is worth appreciating its quality products, customer service, and after-sale support. Besides, you can save your money without looking further than other brands.
All necessary indoor and outdoor power tools are available at Ryobi. Also, the user feedbacks about these goods are superbly positive. So, I would recommend having tools from this famous company.