IKEA is a well-known Swedish company that has expanded its business in the USA and worldwide. While buying their products, people often ask about who makes IKEA appliances.
Over the years, IKEA has established joint ventures with different companies. They are Whirlpool, Renling, Electrolux and Asko. Each of these brands produces different machines for IKEA separately and together.
Whirlpool is the biggest manufacturer of IKEA home appliances. These products come at different price points to make them more convenient for middle-income consumers.
Whenever we think about home appliances on a limited budget, the first name that comes up is IKEA. They have expanded their business all over the world by making necessary products along with other companies. They manufacture products for them.
Interesting History Of IKEA
The story of IKEA begins with a 5-year-old boy selling matches at the time of economic depression. When everyone was working on their family farm to provide food, a boy named Ingvar Kamprad thought of a different approach.
He thought matches were a basic need for every family. So, the entrepreneur started selling matches. His very first customer was his parents.
In 1943, the official journey of IKEA began. The company was an abbreviation of Ingvar Kamprad from Elmtaryd (the family farm) and Agunnaryd (the local parish).
In 1948, IKEA launched its first furniture range at a very affordable price in Sweden. The low price started to threaten the other furniture vendors.
IKEA started its journey abroad in the 1950s when local suppliers tried to shut down the company due to its low price. By this time, IKEA had also launched its first Home Furnishing catalog.
From 1960 IKEA flourished in the restaurant business and other home appliances. Nowadays, IKEA is a known name for every possible home appliance you can think of.
During this journey, IKEA had to go through a lot of ups and downs. From the fire incidents of 1970 to closing business in Japan in 1983, IKEA struggled to reach where it is today.
Whenever IKEA faced a repulsion, they made something good out of it and provided home appliances at a very affordable price for everyone.
Manufacturer Of IKEA Appliances
| | |
| --- | --- |
| Name of Appliances | Manufacturer Company |
| Washing Machine | Whirlpool & Electrolux |
| Dryers | Whirlpool |
| Fridge | Whirlpool |
| Freezers | Whirlpool |
| Dishwasher | Whirlpool & Renlig |
| Cooktops | Whirlpool & Asko |
| Microwaves | Whirlpool & Asko |
| Ovens | Whirlpool & Asko |
| Dishwasher | Renlig |
Different companies manufacture IKEA home appliances on a contractual basis. IKEA offers a variety of electronic devices like a refrigerator, fridge, washing machine, dishwasher, oven, Microwave, and many more.
By joint venture with Whirlpool, Renlig, Asko, and Electrolux, IKEA manufactures these home appliances. The biggest producer of IKEA appliances is Whirlpool. Whirlpool produces almost every product along with other companies.
Also, the IKEA products manufactured in collaboration with Whirlpool will receive a five-year warranty period. As a part of a joint venture, the consumers of IKEA appliances can always order a replacement and home delivery service.
For your convenience, here is a chart to show which home appliances by IKEA are manufactured by which company.
You can ask for appliances produced by a specific company in the IKEA showroom.
See More: Who Makes Maytag Appliances
Why Buy IKEA Appliances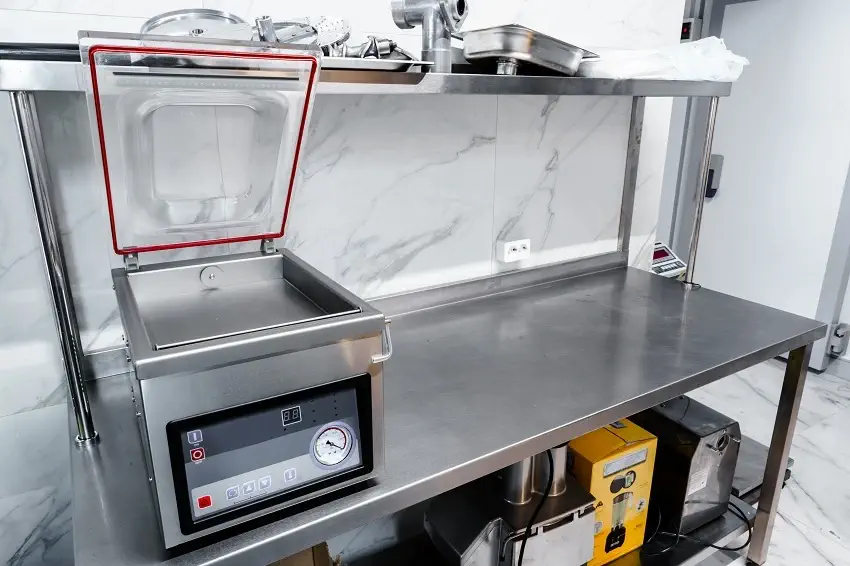 Several factors can influence buyers in buying IKEA appliances. Some of these factors are discussed in brief.
Price Points
With IKEA, you can find a single product at different price points. Starting from the $300 range can go up. For example, you can get a dishwasher at $377 and can also have a dishwasher at $1000.
All In One Place
IKEA offers products of all categories. You can even get furniture matched up with your appliances from IKEA. This way, you do not have to roam around the shop to shop to match the design pattern of your home.
Quality
Big brands like Whirlpool have their names associated with IKEA. Every product they manufacture for IKEA has quality material. Therefore, the budget products last for a convenient time.
Frequently Asked Questions (FAQs)
Does IKEA make its appliances?
IKEA doesn't make its appliances. Instead, they have contractual relations like joint ventures with other renowned brands of Electronics to create products for them. These big companies ensure that they deliver products to IKEA, maintaining the quality level offered by the trusted brand.
Can you use other appliances with the IKEA kitchen?
Most implicit household appliances are made to standard sizes. So, they can easily get adjusted into IKEA's cupboards and cabinets.

But every household doesn't have an IKEA kitchen setting. Therefore, it is always wise to check and check the fact that the appliances you are buying fit the cabinets of your kitchen.

Similarly, if you are purchasing the products of other brands, make sure that it comes in a compatible size with the IKEA kitchen furniture.
Does IKEA have panel-ready refrigerators?
When your kitchen has a panel design that focuses on seamless patterns, then IKEA panel-ready refrigerators are the best choice. These panel-ready refrigerators of IKEA are different from the built-in refrigerators. They get balanced with the surrounding cabinets easily.
Are panel-ready appliances more expensive?
Panel-ready appliances by IKEA cost more than general appliances. The reason for the higher cost is the installation price. Panel-ready devices need unique installation, which comes with a heftier price tag.
More: Who Makes Insignia Appliances
Final Words
Starting as a small company in Sweden, IKEA has spread its product line worldwide. Products they sell, especially home appliances, are manufactured in joint ventures with different companies.
But who makes IKEA appliances? The big companies like Whirlpool, Asko, Reblog, and Electrolux produce products for IKEA ensuring quality.
No matter which company makes the product for IKEA, it is a mandate that the product has to be at different price points. Irrespective of their price points, all IKEA products have some basic quality. That's what makes IKEA a favorite brand in middle-income households!