Buckethead!!! A very peculiar name, right? My cousin was rambling about this name. As Halloween is near so, I thought that it might be a name of a character. I used my curious mind and searched about it.

Do you also want to know the secret behind the weird name Buckethead? Well, then let us find it out.
Who is Buckethead
I guess you got a slight hint on who he is. Let's properly know who is Buckethead. Without much delay.

His real name is Brian Patrick Carroll. A famous American musician, songwriter, and expert in multi-instruments. The expansion of his musical genre includes heavy metal, progressive metal, funk, blues, and many more.

He is a solo artist. But within years, he has collaborated with many other artists like Bootsy Collins, Skating Polly, That 1 Guy. Buckethead was also a member of the famous band Guns N' Roses from 2000 to 2004. 
Why is he so popular?
Buckethead is famous for many reasons. One of them is his unusual or rather unique appearance. When he is performing, a white bucket in his head and a plain white mask adorns his face. 

The most important reason is his charismatic way of playing electric guitar. 
Buckethead Interesting Facts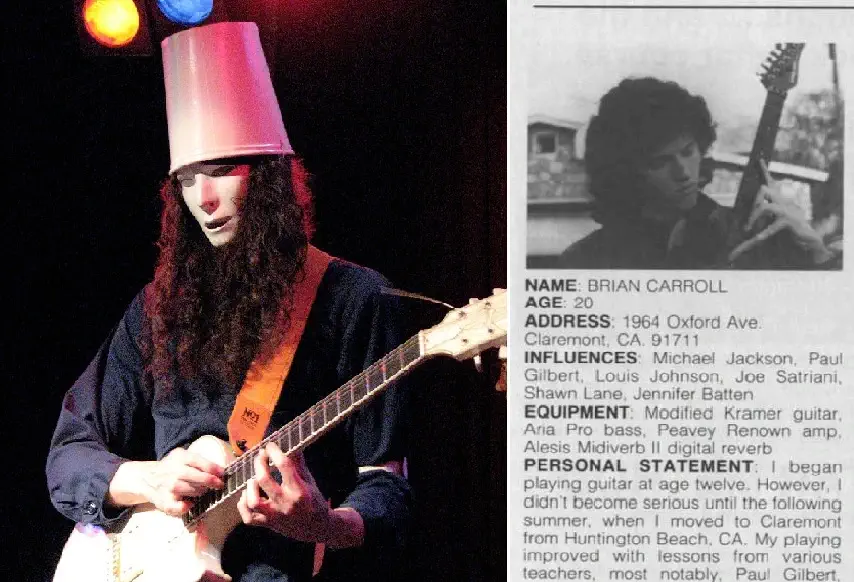 I wonder how will be the life of an eccentric guitarist. Well, then, let's be a part of this euphoria.
The Birth of Buckethead
Brian was mesmerized by the white mask Michael Myers wore, so he bought one for himself.        

On the same night of 1996, while watching the movie. He was eating a bucket full of chicken. Right at that moment, he went in front of the mirror. And put the bucket on his head and uttered the word "Buckethead."

Well, that was the moment when this unusual but awestruck name was born.
Best guitarists of all time
According to the magazine, Guitar One Brian listed in the "Top 10 Guitar Shredders of all time."

He is also included under titles like "25 weirdest guitarists of all time "by the Guitar's World's list.
His tribute to all his teachers
In 2003 at the Style's Music 25th Anniversary as Deli Creeps, he paid tribute to his teachers.
Obsession with chicken 
It is not that the musician loves to eat chicken, and if the fact were that, it would be familiar. But in the case of Brian, everything is a bit weird.

When giving an interview with MTV news, the musician was not ready to speak himself. Instead of that, he wore a giant rubbery mask and named him "Herbie." He said that this puppet would answer the questions.

When asked about the issue with chicken, he started saying an imaginary story. And he even said that whenever he plays, it feels like the sound of the dead chicken of his story—this way, he is bringing them back.

In conclusion, we can say that Brian has a weird obsession with chicken which is not explainable.
His background
Brian was born on May 13, 1969, in Pomona, California, USA. He was the youngest among his five siblings and an introvert in nature.
Musician's Description and Zodiac Sign
We strictly don't know how he looks. According to some sources, he is six feet and four inches tall. He has blue eyes and brown hair. And his zodiac sign is Taurus.
His Relationship
We couldn't find much about Brian's dating life. He had only one relationship, which is only speculation. Currently, he is single and straight. But in an interview, when asked about dating girls.

He mentioned that he is scared of girls. Or more like gets weird feeling around them.
Buckethead net worth
His estimated net worth is from 4-8million.
His Journey
The journey of Brian started when he first started playing guitar at the age of 12. He learned playing from an older man on a road. Later he took things more seriously took lessons on different kinds of instruments from the local music store in the initial stage.

His participation in a contest of Guitar's Magazine in 1988 started his career, and his splendid and awestruck talent mesmerized everyone. After that, he collaborated with many high profiled artists and has given 325 studio-recorded albums, four special releases, and many more.
Frequently Asked Questions
For all the fans of Buckethead, here are some commonly asked questions. Hopefully, the answers will be to calm down your curiosity for the musician.
Does KFC sponsor Buckethead?
No, KFC does not finance him.
What is Buckethead's heart condition?
He is suffering from cardiac ablation. But it is not entirely treated, so he is now relying on the medicines.
Is the song Jordan by Buckethead on Spotify?
Yes, it's on Spotify
Does he sing?
Yes, he sings