If you have visited Walmart lately, you may have seen Hart tools in their inventory. Since Hart tools are pretty new in the industry, people are curious about their origin, manufacturer, benefits, product lines, etc. So, people naturally ask, "Who makes Hart Tools?
Techtronic Industries (TTI) is the manufacturer and supplier of Hart tools. Although you may have seen them in the super shops lately, Techtronic Industries have been supplying OEM tools to brands like Ryobi and Craftsman for years. In early 2019, the company started supplying its excellent, reliable, and popular OEM tools directly in the market to consumers.
Therefore, the Hart tool isn't a new addition to the tool industry. But what are the benefits and drawbacks of Hart tools? Do they offer satisfactory customer care service? Also, where do they manufacture their products?
Don't forget to read this article on Hart tools to know the answer to these questions.
| | |
| --- | --- |
| What Company Owns Hart | TTI (Techtronic Industries) |
| Launched | 2007 |
| Where are Hart Tools Made | Hong Kong and China |
| Website | www.harttools.com |
Who Makes Hart Tools
As we have already made it clear, Techtronic Industries make the Hart Tools. Originally, Techtronic Industries worked as an OEM parts supplier to many international and famous tool manufacturers, including Craftsman and Ryobi.
Nowadays, they supply their OEM tools directly to their consumers. You will see Hart tools in Walmart and other superstores as well. Thus, Hart tools aren't new.
In fact, Hart established himself as the top brand in 1983. Hart made hammers during the early days, and professionals had high esteem for Hart hammers. Since their hammers were popular among professionals, Hart integrated them into their logo.
Yes, when you look at the Hart logo, you will see "H" stylized in the logo. The "H" symbolizes a hammer and nail. Although Hart was going strong, its actual expansion started when Techtronic Industries (TTI) bought the brand in 2007.
Nonetheless, you should know an important fact about Hart tools. Yes, TTI designs these tools in America, but they are produced overseas. That's why they engrave their product label as "Born in the USA" instead of "Made in the USA." Unfortunately, most people don't understand the difference between these two phrases and are deceived.
Is Hart a Good Brand of Tools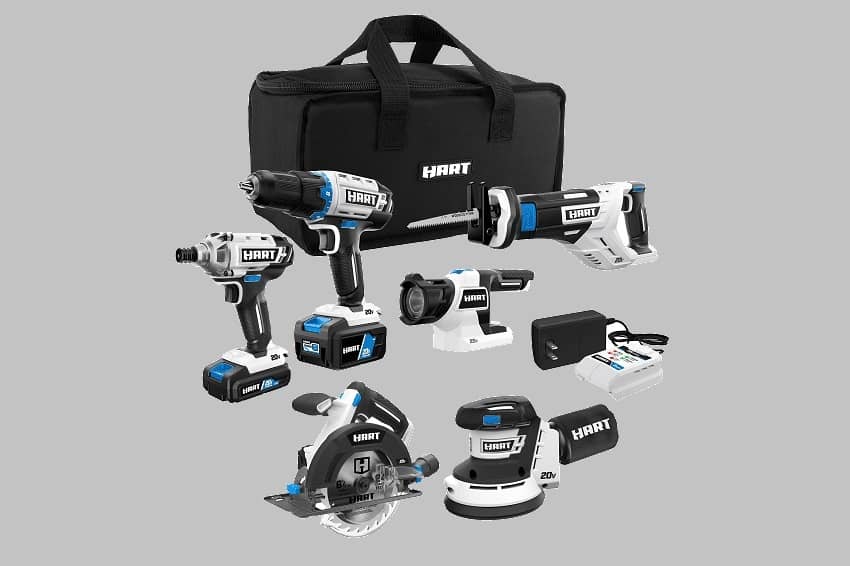 You now know the answer, "What company manufactures Hart tools, and where are these tools made?" So, you might be interested to know if Hart tools are a good brand, and you can depend on their products.
To answer this question, we compared Hart tools with Ryobi, Stanley Black, and Decker brands which are the direct competitors of Hart tools. As we have seen, Techtronic Industries have priced their Hart tools in different segments to compete with their rivals.
It has come with one benefit for consumers. You can get Hart tools at affordable pricing. So, it already gives these tools a definite edge. Also, we have seen that consumers were particularly satisfied with the products of Hart.
We have talked with several customers, and they have given positive feedback about Hart products.
But, most of them also complained about two things about Hart. Firstly, Hart only provides three years of warranty for their products while most companies go for five years of warranty for their tools. Secondly, the battery performance of the Hart tools was rather disappointing.
Apart from these two points, we have seen mostly positive reviews on hart tools. So, it is perhaps safe to say that Hart tools are reliable and good brands of tools.
Benefits of Hart Brand
The Hart brand has established itself as one of America's most popular tool brands within a few years. So, what makes Hart tools so special? What are their benefits?
Let's head to see the top advantages of using hart tools.
The leading advantage of Hart tool brands is their easy availability. Yes, you may get Hart tools nearly in every Walmart superstore. It means you can get Hart tools within a few miles of your home. It will be a great benefit during emergencies.
Although Hart tools have been in the market for only 40 years, Techtronic Industries has manufactured different power tools. It highlights that Hart tools have decades of successful manufacturing experience in their bags. This incredible experience has helped them manufacture top-of-the-line products for all consumers.
Previously, Hart used to manufacture OEM tools for Ryobi and Craftsman. Thus, they had to ensure the best qualities of their products. Thankfully, Hart has carried the legacy of producing excellent quality products even after TTI took them over.
Hart tools offer generous discounts from time to time. Thus, you might be interested in getting one of their products if you already haven't got one. When you visit Walmart, you can look at the discounts and check if you can get one of their useful tools with a discount.
Last but not least, Hart tools truly ensure superior quality. Also, they provide you with brilliant customer care service. So, you can indeed depend on their service.
Drawbacks of Hart Brand
Hart brand manufactures amazing products. Nonetheless, like all power tools, the Hart brand also has a few setbacks.
At first, Hart only offers three years of warranty for any manufacturing defects. It is a great disadvantage of Hart brands since most power tool manufacturers offer five years of warranty. It isn't very pleasant. When you even look at Harbor Freight, they offer a lifetime warranty for their cheap products. Therefore, it is indeed frustrating that Hart offers only three years of the warranty period for their most expensive product lines.
Secondly, Hart has designed their battery for the power tools so that you can't use other batteries with their tools. It limits you from purchasing the batteries only from Walmart. Also, you are limited to using only a specific battery due to Hart's business policy of making a massive profit.
Know More: who makes husky tools
How Is the Customer Service?
One of the best advantages of using Hart tools is their excellent customer service. They won't forget you once you buy power tools from them. You can call them via phone for any emergency help to maintain and repair their products. Also, we have talked with consumers, and they said they were indeed satisfied with the prompt customer care service from the manufacturer.
Would I Recommend Hart Brand?
Yes, I would recommend the Hart brand. If I need a power tool at affordable pricing with good quality and a sale in Walmart, I would surely get a Hart power tool. You can rely on their brand value and manufacturing quality. You won't be disappointed with their exceptional product lines at all.
Frequently Asked Questions
Are Hart tools as good as Milwaukee?
Both Hart and Milwaukee produce brilliant power tools. While Milwaukee is older than Hart, TTI truly has developed unique design concepts and product lines for their Hart tools. They are as good as Milwaukee, if not better.
Is Hart tools made by Milwaukee?
No, Hart tools aren't made by Milwaukee. TTI has been the manufacturer of Hart tools since they took over the company in 2007.
Do Hart batteries work with Ryobi?
The Hart battery will only work with the 40V lithium-ion battery-operated Ryobi tools. It includes a lawnmower, blower, etc.
Do Hart tools have a lifetime warranty?
No, Hart tools don't provide you with a lifetime warranty. They only offer three years of warranty, which isn't very reassuring.
Is Hart better than Ryobi or Dewalt?
No, Hart isn't better than Dewalt and Ryobi power tools. Nonetheless, Hart still manufactures industry-leading power tools, and you can depend on their performance and longevity.
Know More:who makes gearwrench tools
Conclusion
You should now clearly know who makes Hart tools. Yes, Techtronic Industries or TTI is the manufacturer of Hart tools. They took over the company in 2007, and since then, TTI has done brilliantly to make Hart a top choice for many American homeowners. We would love it if they were confident and generous enough to offer a lifetime warranty on their power tools.