People have known Amana appliances for being the most affordable brand of Whirlpool. It's been strong in the market even after being gained by whirlpool, providing well-manufactured products. Today Amana has refrigerators, cooktops, freezers, dishwashers, etc. we know the products of Amana are fairly priced and easy to use. So you may ask, who makes Amana appliances?
After getting handed down amongst several companies, Amana is currently under the leadership of Whirlpool Corporation. So Whirlpool makes all the Amana appliances. And we say that Amana continues to strive to manufacture some of the best household appliances in the market.
Now let us learn more about these appliances. We shall also try to answer who makes Amana appliances vividly? So, let us get into this!
What is Amana
Amana is a well-known brand of household appliances. George Foerstner founded the company in 1934 as The Electrical Equipment Co. Later on, the owners named it Amana Corporation. Amana is currently a subsidiary brand of Whirlpool Corporation.
Under the umbrella of Whirlpool Corporation, Amana manufactures many well-accepted appliances. They manufacture microwaves, hoods, washers, dryers, ranges, etc. Its company is in Amana, Iowa.
These appliances are mostly easy to use. It doesn't come with any extra or complicated features. It is quite basic and reasonably priced. However, people still know the products for being of exceptional quality.
Who Makes Amana Appliances
Whirlpool Corporation, also referred to as Whirlpool, makes Amana appliances. Whirlpool is a Fortune 500 company. It is an American multinational manufacturer and marketer of home appliances.
Louis and Emory Upton founded the company in 1911 in Benton Charter Township, Michigan, United States.
Apart from Amana, whirlpool also sells home appliances under many other brands. Maytag, KitchenAid, JennAir, Gladiator GarageWorks, etc., are some brands of Whirlpool.
It also has Inglis, Estate, Brastemp, Bauknecht, Hotpoint, Ignis, Indesit, and Consul, and its flagship brand Whirlpool. Their website also mentions Diqua, Afresh, Across, and Yummly brands.
The History of Amana Appliances and Whirlpool Corporation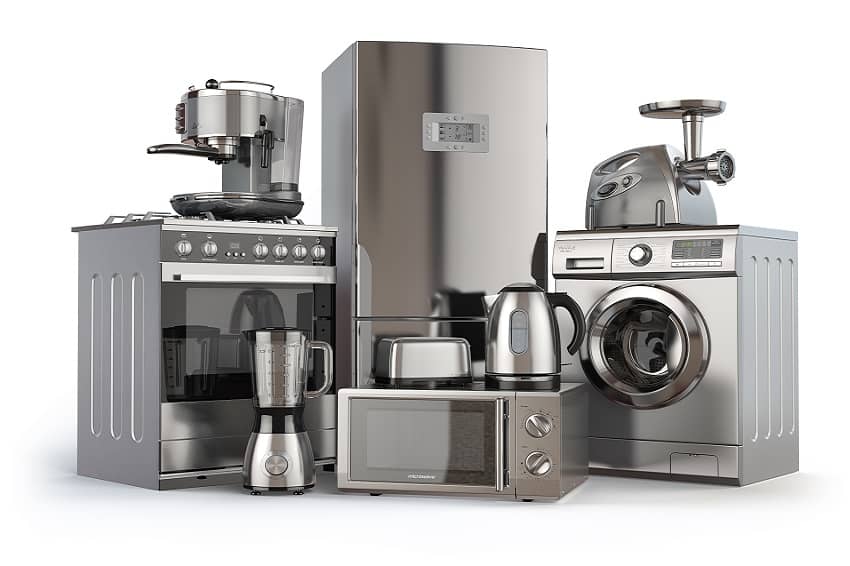 Amana is an American brand of household appliances. George C. Froestner founded it in 1934. The company is in Amana, Iowa, US. The side-by-side refrigerator (1949), the bottom-freezer refrigerator (1957), and the countertop microwave oven (1967) were first made by Amana.
Since then, Amana has been best known for its quality and dependability.
Amana Corporation was acquired by Raytheon Manufacturing Company in 1965 and purchased by Goodman Manufacturing in 1997. Then Goodman Global sold the company to Maytag in 2002. Maytag. Goodman still owns Amana's air conditioner and furnace division.
Maytag, later on, got acquired by Whirlpool Corporation. So now whirlpool owns and manufactures Amana home appliances.
Whirlpool is also an American home appliance manufacturing company. It usually makes major and small appliances. The company has nine manufacturing facilities and operates around the world.
It has its manufacturing plants in Amana, Iowa; Tulsa, Oklahoma; Cleveland, Tennessee; Clyde, Ohio; Findlay, Ohio; Greenville, Ohio; Marion, Ohio; Ottawa, Ohio; and Fall River, Massachusetts. In March 2020, Whirlpool Corporation announced the opening of a new Factory Distribution Center in Tulsa, Oklahoma.
Whirlpool Corporation manufactures ranges, microwaves, washers, dryers, cooktops, etc. they have many brands. People like to buy their products for their quality and availability of options.
It's no wonder whirlpool has been around in the market for 110 years with their consistency of product quality. They have built the trust of their customers for a century with these products.
See More: Who Makes Hisense Refrigerators
The Benefits of Amana Appliances
Amana has been in the market for over 80 years. Still, now people buy their products for the quality and price. They have many features that make them different from their competitors. Now that we know who makes Amana appliances let us get into some facts about these appliances.
Reasonable Price
Amana appliances are of high quality. They have simple designs, and the appliances are easy to use. However, they cost lower than most of the products of the whirlpool. People with a low budget can always rely on this brand.
Easy to Use
These Appliances are of simple design. They do not have any high-end features. They are pretty plain and simple. It may not wow anyone with its features, but it sure does the work it has promised to do
Long-Lasting
Although Amana products are not of the high price, they are also not cheap. They provide quality products. Amana's appliances are easy to use. They don't have any features which are hard to take care of. So with proper care and maintenance, Amana appliances will last a long time.
Frequently Asked Questions
Are Amana appliance and Whirlpool the same products?
Amana and Whirlpool are two different brands. But Whirlpool manufactures them both. So there usually aren't that many differences between the products. But Amana's products are simpler than Whirlpool products.
Where are Amana appliances made?
They make Amana washers and dryers in Ohio. They also make whirlpool and the Maytag washers and dryers in Ohio.
Are Amana appliances still good?
Amana has been in the market for a very long time. They are best known for being fairly priced and yet of exceptional quality. Their products are simple and easy to use. Amana is undoubtedly a durable brand. So yes, Amana appliances are still a good one.
Are Amana washers long-lasting?
Amana washers are very reliable. They are pretty solid for use. They come with 11 years of life expectancy. Not only that, but they are also budget-friendly. Anyone with a mid-range budget can definitely consider buying these washers.
See More: Who Makes Bosch Appliances
Conclusion
Amana is a well-known home appliance brand. Under the leadership of Whirlpool, Amana has been turning eyes. They are easy to and of simple design.
Whirlpool, who makes Amana appliances, is a world-renowned home appliance manufacturing corporation. It has many subsidiary brands, including Amana. Both the brands and also whirlpool corporation is reputed for making some of the best and reliable products for many years.
So if you are thinking about buying home appliances, you may consider them. They will not let you down; you can hope.